Axess Group assists FPSO MIAMTE MV34's first oil in Mexico
First-of-its-kind FPSO marks MODEC's second operations and maintenance project into Mexico.
MOLDE, Norway, 3 August 2022 - MODEC's floating production, storage, and offloading vessel, FPSO MIAMTE MV34, operating in the Offshore Area 1 block in the Gulf of Mexico has achieved the first oil production early this year. Empowered by Axess Group, the FPSO is crucial to Italian supermajor Eni's business strategy in Mexico.
The FPSO capacity is 90,000 barrels of oil per day, 75 million cubic feet of gas per day and 120,000 barrels of water injection per day with a storage capacity of 700,000 barrels of oil. It furthermore boasts an original system provided by SOFEC, a MODEC group company. Being the first application of its kind worldwide with the ability to disconnect the FPSO in case of extreme marine events and its "Swivel" systems in the mooring tower allow the transfer of production fluids from the Mizton and Amoca platforms, as well as the electric power plant.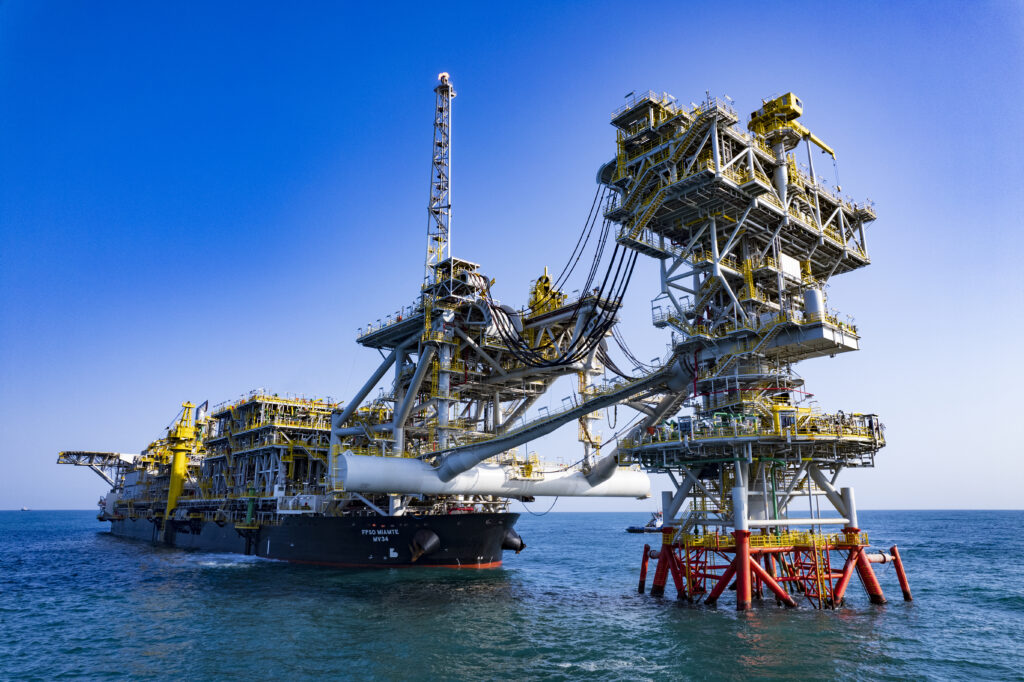 Norway's Axess Group has supported the project since the FPSO arrived to Mexico early this year. The expert in integrity and engineering solutions collaborated closely with MODEC and Eni, supporting the FPSO's pre-commissioning and commissioning, followed by marine support activities, including procurement, hook-up, and installation. On February 24th, MIAMTE MV34 started hydrocarbon production at the Mizton field, within the Development Project in Area 1 in the Gulf of Mexico, approximately 10 kilometres offshore from the Tabasco coast.
"We have been waiting for the arrival of the vessel and are very excited to support this incredible project," said Axess Mexico's country manager, Chris Walker. He added that the company will continue to deliver asset integrity management solutions for the FPSO and looks forward to collaborating further with the project's partners.
The Amoca-Mizton-Tecoalli field is estimated to hold 2.1 billion barrels of oil equivalent, 90 percent of which is crude. Now that the pandemic's barriers to MIAMTE's arrival in Mexico have been overcome, the FPSO will be crucial to Eni's organic growth in the market, serving as the crux of a configuration including offshore platforms, pipelines, and onshore delivery facilities. Eni chartered the FPSO for an initial 15 years.
Axess Group's contributions are key to MIAMTE MV34 the FPSO's operational success. This fundamental work includes supplying over 100 people bolstered with diverse and flexible skillsets while also providing onshore support for the operations team. Material procurement, catering services, and vessel administration are further key activities the company carries out.
The Norwegian company's data reveals it has provided 84,895.5 person-hours, all while following top international safety standards to comply with the group's health, safety, and environmental priorities and guidelines of Mexico's authorities.
Axess Mexico has supported oil companies in the Gulf of Mexico since 2020, whereas Axess Group has refined its integrated engineering solutions since 1998. Starting in Molde, Norway, the group is now established in global oil hotspots and has already worked on 600 assets.
Committed to safeguarding the environment, Axess Group is strengthening its presence in renewables via continued delivery of engineering solutions to the wind energy sector. Moreover, the company aims to leverage its digital solutions to address current and future challenges and support the development of the global energy industry.
---
Lead image provided courtesy of MODEC.