LIFTING EQUIPMENT INSPECTION AND CERTIFICATION
Lifting Appliance and Lifting Gear Inspection

Safe, reliable and successful lifting operations highly depend on a comprehensive inspection strategy for lifting appliance and lifting gear
At Axess Group, inspections of lifting equipment are performed and documented according to statutory, class and company requirements. Our inspections have the necessary external and internal approvals to perform the inspections and the control according to valid requirements for the specific equipment type or category. Approved procedures and checklists covering the scope of work of the specific inspection are used and the results are documented on Equip, one of the modules in our inspection software, as well as our clients' systems when applicable.
Lifting appliance and lifting gear inspection services
The periodic lifting appliance and lifting gear inspections and certifications performed by Axess Group are based on relevant equipment standards and the manufacturer's instructions for use, which typically includes:
Verification of documentation, certificates, etc.
Review of the previous inspection reports
Maintenance and equipment history
Control of analysis of oil and grease from cranes
Use of lifting appliance in relation to design lifespan and assessment needed for initiating lifespan analysis
Condition control (including marking)
Test of all functions, safety functions and limit switches
Test of all emergency operation systems and functions
Measurement of wear and tear
Visual inspection
Wire rope sheave and wire rope inspection
Reporting and signing for completed control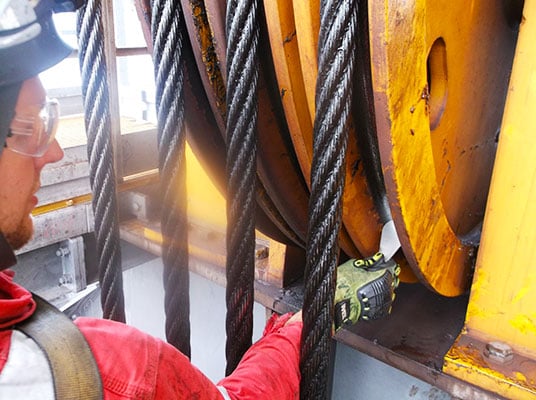 Range of lifting appliance and lifting gear that we inspect

We carry out lifting appliance and lifting gear inspections according to relevant procedures and checklists in our HSE & QA system to ensure safety and dependability of the following equipment:
Lifting Appliances
Offshore cranes
Cranes (all types)
Winches and hoists
Drilling equipment (lifting-related)
Elevating work platforms (access basket)
Attachments and beams
Life-Saving Equipment
Lifeboat davits and winches
Life raft davits
Lifeboat Skidding system
Release mechanism
Securing arrangement
Escape chutes
Escape lines
Gangway systems
Rescue boats – davits and winches
Personnel transfer carriers
Personnel Safety Equipment
Harness
Lanyard
Fall block
Tripod
Stretcher
Rescue kit
Rescue accessories
We go beyond basic lifting appliance and lifting gear inspections, by providing complementary services including:

Certification and Re-Certification of Lifting Equipment based on NORSOK R-002 Annex H
Temporary Lifting Equipment based on NORSOK R-002 and in accordance with NORSOK R-003 Chapter 8
Equipment rental and supply
Rigging loft solutions
Crane condition evaluations
Rest life analysis and GAP analysis
Visual wire rope inspection and Magnetic Rope Testing (MRT) according to ISO 4309
We have a feeling you might have a question or two...
Contact us