Smart and environmentally friendly caisson replacement
A green and cost-effective method of replacing caissons
Client: Wintershall
Industry: E&P
Asset: Brage platform
Location: North Sea
Year: 2019
Challenge
When Wintershall acquired the Brage platform in 2013, one of the oldest producing platforms in Norway, they were approved to extend its lifetime up to 2030 and beyond. Besides optimising its processes, they also needed to repair and replace the damaged structures and components. One example was its aging caissons.
With over 25 years in service, the caissons have suffered from corrosion and cracking, posing threats to other components of the platform and the subsea architecture. As previously contracted to replace one of the platform's caissons in 2013, Axess Group was again commissioned to replace seven caissons in 2018 to 2019.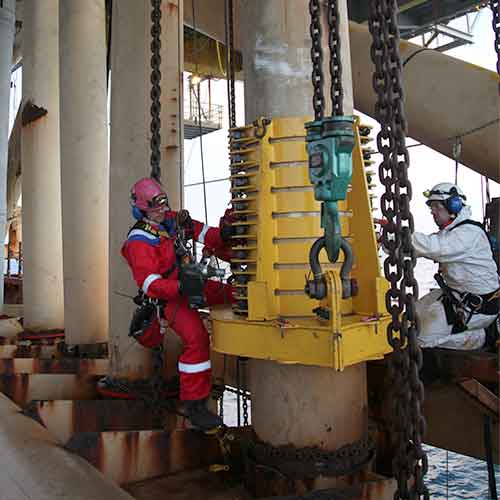 Solution
An investigation and feasibility study resulted in an innovative and climate-efficient method of replacing the caissons. Instead of using support vessels, Axess' engineering department performed the lifting operations below the platform deck with the aid of a tailor-made Construction ROV (CROV) that was platform deployed. This prefabricated CROV was designed to carry out various activities with maximum flexibility – cutting, cleaning, torqueing and other clamp capabilities.
The high-risk method involved safety measures for lifting above pressurised equipment according to the strict requirements found in NORSOK R-002 Annex K, including double redundant load paths, and implementing fail-safe systems throughout the design. In addition, a lifting system was also developed to catch potential parts that have fallen off after a breakage in one of the caissons. The lifting clamps were custom-designed to provide a complete material handling solution – a more factory / turnkey way of thinking rather than the conventional offshore project approach.
Results
Due to its compact design and multiple mechanical capabilities, the bespoke platform deployed CROV exceeded the weather-sensitive limitations of large ROV systems on IMR vessels – especially in the splash zones. Not only did the lifting solution provide a huge cost savings on support vessel chartering, it also reduced a significant amount of emissions.  Over 1,700 tons of CO2 were saved by using this method, largely by avoiding the use of support vessels.
Overall, Wintershall was very pleased with the proposed plan and the execution as it was cheaper than the conventional method and with minimal emissions. The work was undertaken in all weather conditions including the challenging winter months in the Norwegian North Sea.