ENGINEERING SOLUTIONS
Caisson Replacement

Caisson replacement made cost-effective
For many years, caisson replacement was considered time-consuming and too expensive. In some projects, the replacement of one caisson can cost almost 20 million USD. As there can be 10 to 15 caissons on an offshore platform, it is understandable that some energy companies have postponed these replacement projects and relied on temporary repairs instead.

In the past 20 years, Axess Group has developed safe, lean and innovative methods for lifting operations, allowing us to replace caissons faster and at a fraction of the cost of what it used to be. We have gained substantial experience within the field and replaced many caissons in recent years, with excellent feedback from our clients.
Damage to caissons

Caissons are key components of steel jacket structures – one of the most common types of offshore platform foundation in shallow and mid-water. Damage to caissons can cause severe problems if not dealt with correctly, with production shutdown and major accidents being the most critical.
Common types of damages:
Corrosion and resulting wall thickness reduction due to wear and damages in surface treatment, lack of cathodic protection
Galvanic corrosion problems due to the use of dissimilar metals in caissons and pumps
Structural fatigue cracks due to dynamic movements and loads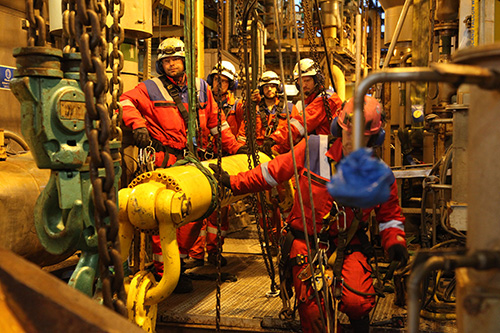 Risks associated with caisson replacement

Caissons come in many different designs. For a typical mid-water installation, they have a length of 50 to 100 meters and weigh 20 to 40 metric tons. Caissons are usually manufactured and installed at the same time as the jacket structure itself. They are usually not designed to be replaced during the expected lifespan of the platform. Most are produced with either welded or flanged joints, with welded joints being the most common.

It is impractical to replace or install caissons in its complete length, thus, it must be done section by section. Removing the old caisson by cutting it into smaller sections can be challenging and time-consuming, if not planned and executed accurately. Furthermore, as the reason for replacement is typically excessive corrosion or fatigue cracks, it is very important to secure the caissons to prevent them from breaking during these operations.
What we offer

A caisson replacement project is complex. The most important factor to success is having an efficient and cost-effective solution for installation of the new caisson elements. We have experience with both flanged and welded types, and more recently, the pin-box connection type, which has proven to be a very robust and cost-effective solution.

We strive to meet any request from clients, but typical deliverables for caisson replacement are as follows:
Planning and engineering
Project management and administration

Technical and engineering management

Design engineering

Structural engineering

Lifting method planning

Mechanical work and equipment planning

Subsea work and equipment planning

LCI engineering
Fabrication and procurement
Assistance with the procurement of new caissons, or

Complete delivery of design and procurement of new caissons

Production follow-up / inspection and quality assurance

Special focus on installation friendliness

Fabrication of custom made lifting equipment
Offshore execution
Installation management

Complete offshore crew and equipment package

Subsea preparation work

Mechanical and cutting work

Lifting/rigging/rope access operations

Subsea installation operations

Pin-box installation crew and/or welding crew

Inspection and certification work